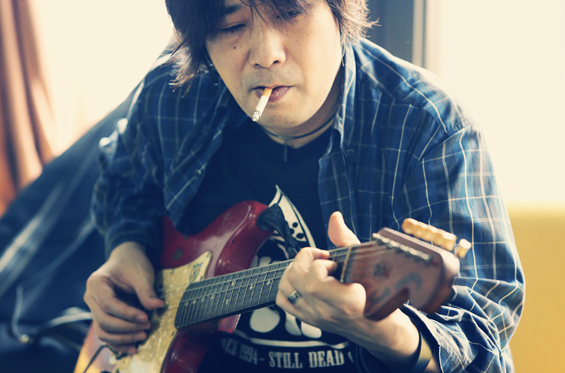 Kazuhide Yamaji
Kazuhide Yamaji is a Japanese guitarist, vocalist, composer, producer. Born in Yokohama in 1966, he now lives in Tokyo. Most known for his imaginative psychedelic and noise guitar sound, he is also a  singer-songwriter and film music composer, who has composed and performed in several movies such as "9souls" and "Tokyo Rampage (known as "pornostar" in Japanese by Toshiaki Toyoda).

In 1991, Yamaji formed a 3-piece band called "dip" with Yasushi Nagata (b), Noriyuki Nakanishi (ds). Active for over 20 years the band have a well respected following having released to date, 12 studio and two live albums.  Yamaji and "dip" have had a huge influence on many young Japanese bands such as "THE NOVEMBERS" and "ART-SCHOOL" . In 2012, a "dip tribute ~9faces~" album was released on which many of the bands songs have been reinterpreted by other leading Japanese bands.

Ranked in the top 50 of the  "Greatest 100 Guitarists of All Time in Japan" in 2017, Yamaji 's solo activities and works are also highly acclaimed. His has released four albums and more than 20 CD-Rs. As a guitarist, he is highly regarded as a great improviser and has played with musicians such as Keiji Haino, Tom Verlaine, to name but a few.